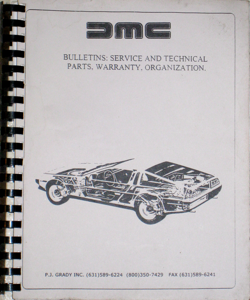 The DeLorean Technical Manual is an addendum to the DeLorean Workshop Manual and DeLorean Parts Manual. The full title is Bulletins: Service and Technical Parts, Warranty, Organization.
This manual is a collection of service bulletins. Each bulletin starts with a prefix, usually two letters long, identifying the type of bulletin. This is then followed by the bulletin number and the bulletin's month and year of issue. For example, SO-01-6/81 is Service Organization bulletin 1, issued in June of 1981.
A list of optional accessories made available by the original DeLorean Motor Company, including floor mats, the luggage and ski racks, car care products, and sheepskin seat covers.
A supplement to the DeLorean Parts Manual, this includes omissions from the Parts Manual and production changes after the Parts Manual was completed.
This single bulletin is for the parts binder.
A single bulletin with updated parts pricing.
This includes a list of parts that have been superseded with new parts during production.
This covers various safety improvements that should be made to all DeLoreans.
SO: Service Organizational
[
edit
|
edit source
]
These are general bulletins that cover the minutia of technical service centers.
SPECIAL: Special Bulletins
[
edit
|
edit source
]
This one bulletin addresses the initial dealer parts kit.
The most useful section to current owners, this adds to and updates various DeLorean Workshop Manual procedures and services. This is also the largest section.
This covers warranty issues for dealers and service facilities.
Reproductions of the DeLorean Technical Manual are available from many DeLoaen vendors. The DMCNews website has also made all of the bulletins available as a series of web pages and downloadable PDFs.
Community content is available under
CC-BY-SA
unless otherwise noted.