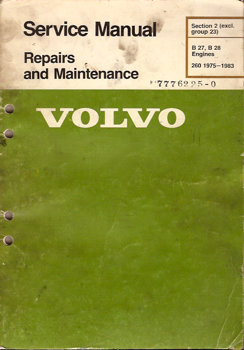 The Volvo Engine Manual covers the B27 and B28 engines, including the B28F used in the DeLorean. It is generally directed at Volvo cars insomuch as to how it assumes the engine is mounted, but when dealing directly with the engine it is equally applicable to the DeLorean. The complete name of the manual is Section 2 (excl. group 23), B27, B28 Engines, 260 1975-1983.
The manual includes specifications, a list of special tools, a general description, and complete instructions for assembling and lubricating the engine and working on the exhaust and coolant systems and engine controls. Each page is divided into operation numbers identifying specific steps performed in a given procedure. The manual's 169 pages is lead by a sparse table of contents, but this is supplemented a full index.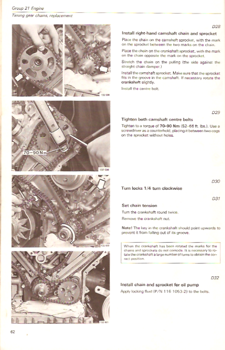 The manual is visually detailed, with photographs and technical drawings of many of the engine components, often illustrating each step of a procedure.
Table of Contents
Specifications
Special Tools
Group 20: General Description
Group 21: Engine Assembly
Group 22: Lubricating System
Group 25: Intake and Exhaust Systems
Group 26: Cooling System
Group 27: Engine Controls
Index
The manual has european-style hole punches. This allows it and the other Volvo manuals to be collected and protected in a binder, although it can be tricky to locate a compatible binder in the United States.
The Volvo service manuals are not generally available from DeLorean vendors, but can be found online with some searching at places such as books4cars.com.
Community content is available under
CC-BY-SA
unless otherwise noted.