Jurassic World: Dominion Dominates Fandom Wikis - The Loop
Play Sound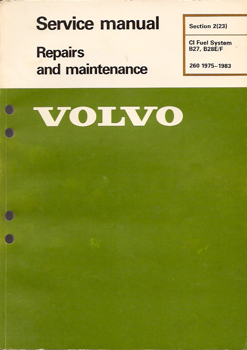 The Volvo CI Fuel System Manual covers the fuel system used in the DeLorean. The documentation is generally directed at Volvo cars of the day, so certain instructions that are vehicle-specific do not apply to the DeLorean, such as how the fuel tank is mounted, or references to the radiator fan mounted on the engine. However, the bulk of the manual deals directly with the fuel system itself, and thus applies equally to the DeLorean. The complete name of the manual is Section 2(23), CI Fuel System B27, B28E/F, 260 1975-1983.
Contents
[
]
The manual includes specifications, a list of special tools, and detailed information on the CI and CIS systems, including specifications with temperature curves, components, fault tracing, basic settings and inspection, and adjustments. Each page is further divided into operation numbers identifying specific steps performed in a given procedure. A table of contents outlines the 131 page manual, and the full index makes it easy to find pertinent information.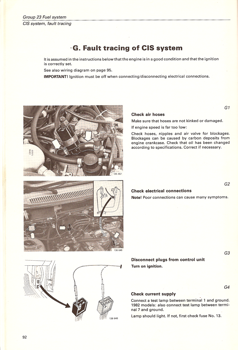 The manual is visually detailed, with photographs and technical drawings of many of the engine components, often illustrating each step of a procedure.
Table fo Contents
Specifications
Special Tools
CI System

Brief Description
Location of Components
Important Information
Flushing System
Inspection of System

Faults Detected
Adjusting Line and Reset Pressures

Fault Tracing
Components, Checking and Replacement, etc.

Tank Pump
Fuel Pump + Non-Return (Check) Valve
Fuel Accumulator
Fuel Filter
Air-Fuel Control Unit
Injectors
Control Pressure Regulator
Start Injector, Thermal Time Switch, Impulse Relay
Auxiliary Air Valve
Relays

Wiring Diagram

Constant Idle Speed System (CIS-System)

Location of Components
Idle Speed
Fault Symptoms
Basic Setting and Inspection of System
Fault Tracing
Wiring Diagram

Idle Speed & CO Content, Checking/Adjusting

General
B27E 1975-1978
B27E 1979-1980
B28E
B27F
B28F

Miscellaneous

Air Filter, Air Preheating
Fuel Lines, Replacing Nipples
Fuel Lines, Replacing Lines
Fuel Lines, Connections
Fuel Tank 1975-1978, Types
Fuel Tank 1975-1978, Replacement
Fuel Tank 1978-1983
Evaporative System

Index
The manual has european-style hole punches. This allows it and the other Volvo manuals to be collected and protected in a binder, although it can be tricky to locate a compatible binder in the United States.
Availability
[
]
The Volvo service manuals are not generally available from DeLorean vendors, but can be found online with some searching at places such as books4cars.com.
Glossary
[
]
CI: Continuous Injection
CIS: Constant Idle Speed
CIS may also be used to refer to the CI System, which can lead to confusion.
See Also
[
]
External Links
[
]